Spreadsheet Solutions is proud to partner with the Age Diversity Network to help affected people to find work.. If you feel that you have been discriminated against because of your age (which sadly doesn't have to be that old any more), we would like to make your job search slightly easier. We've created a spreadsheet to help track and remind you about job applications.
Please download this with our compliments. There is a demo video below if you'd like to see how to use this spreadsheet.
If you'd like to see some of our other free and low-cost spreadsheets, you can find them below. If you'd like a purpose-built spreadsheet, please feel free to get in touch.
What this spreadsheet does: It helps you keep on top of your job search and applications.
Who this is ideal for: Anyone who is looking for a job and applying for various jobs.
Why you need this spreadsheet: Looking for a job can be an emotional draining time, so the last thing you need is to forget about an application or let an opportunity slip through the cracks. If you want a nice neat list of your applications, with all the info that you need to know and some reminders, then this is for you. If you are currently unemployed, please click HERE to download this for free with our compliments.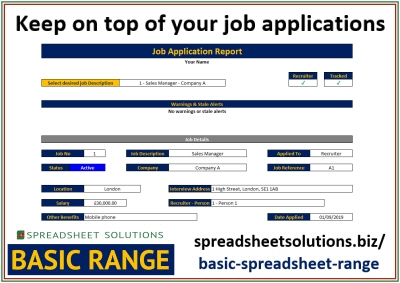 We are NOT VAT registered.
Watch a Full Demo Video (this will explain in detail, how to use this spreadsheet)
Please note that all of our spreadsheets are made using the latest version of Excel, as used when using Office 365. If you're using an older version of Excel, or another spreadsheet platform, these spreadsheets may not work properly. If this is the case, and you would like to purchase a solution from us, please get in touch and we will see how we can help. Bespoke spreadsheets can be made to suit your preferred spreadsheet platform.
More about the Age Diversity Network
You've reached the end of the page, where would you like to go now?