SELECTION RANGE SPREADSHEETS

You select your components.
We build it.
Welcome to our Selection Range of Component Spreadsheets. We have a solution where you can select which components you wish your spreadsheet to have. Simply select the product below to visit the product page, then select which of the components you want, and we will assemble it and send it to you. If you want to see all the ready-made solutions we have, download the Ready-made Spreadsheet Finder.
Select a product below to view.
Download a trial to view all available components (colour coded).
Order the spreadsheet, selecting which parts you want.
Pay according to the number of components selected.
We'll assemble your spreadsheet and send it to you.
About this solution: This spreadsheet has various components available, and all to do with your HR. If you employ staff, then there are numerous things to keep track of such as holidays, absenteeism, training, performance, etc. You pick the components you need, and we'll make your solution for you.
Number of Available Components: 8
Price Range: £50 – £420
About this solution: If you're managing various projects, with numerous people working on each, as well as expenses and your own time and travel to consider, then this is for you. Simply assign the time, expenses, staff, and other resources to the specific project, and then see the comprehensive dashboard for the breakdown. If you wonder which projects make the most money, this will help.
Number of Available Components: 4
Price Range: £80 – £200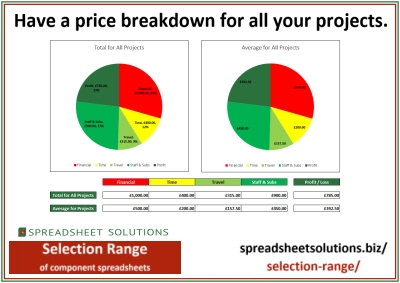 About this solution: This spreadsheet is like a life dashboard for a self employed person. It measures various criteria such as leads and clients, health, cash, perceived success and even how busy you are. You get to select which components you want, and we make your ideal dashboard.
Number of Available Components: 8
Price Range: £50 – £220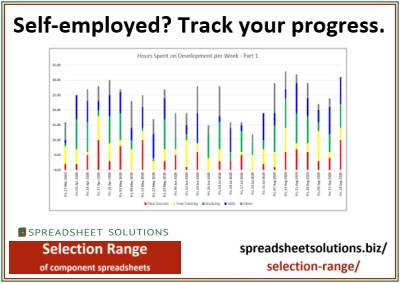 Trial Balance Financial Report
About this solution: This spreadsheet takes some values exported from your accounting software (Xero) and further analyses your finance based on your selections and requests. Would you like to see more about your business finances?
Number of Available Components: 1
Price Range: £250 – £420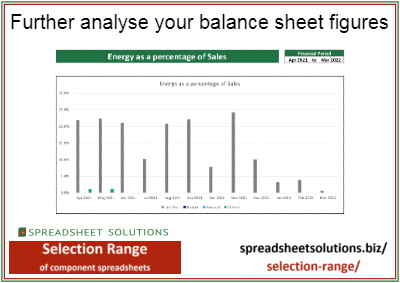 About this solution: If you want to know about the traffic to your website, and you have Google Analytics set up, then this report is for you. Google Analytics produces a wealth of data, but it is not always easy to use that data to find out what you want to know. This spreadsheet uses data exported from Google Analytics, and presents it in a useful report, to show you about the visits to your website.
Number of Available Components: 10
Price Range: £80 – £280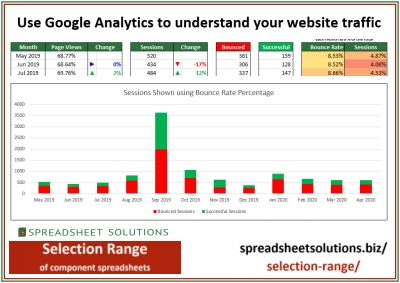 If you have any suggestions for products which you would like to see in this range, either for you or for your clients, please contact us. We are always looking for ideas for products to add to our range. If you would like to have a specific product here, which could add value to what you offer your clients, please let us know. Small business partnerships are key, and we would love to team up with you to help you better assist your customers. We would also like to hear any ideas about potential upgrades to any of the existing products, so please let us know if you have any suggestions. As stated before, if you like one of these spreadsheets, but they don't quite do what you require, please contact us. We can either customise an existing product, or make you a new one from scratch.
Terms & Conditions
Once the Client has paid Sumcor Ltd trading as Spreadsheet Solutions (from now on referred to as Spreadsheet Solutions), you, the Client accept the worksheets as a complete satisfaction and realisation of the entire Scope of Work, instructions and parameters presented to Spreadsheet Solutions. Client additionally assumes all responsibility and liability for testing the functionality, validity, and accuracy of the program and holds Spreadsheet Solutions harmless for any liability or damages arising from the use of Spreadsheet Solutions' worksheets developed by Spreadsheet Solutions. Included at no additional charge with the purchase of the file, Spreadsheet Solutions will debug and correct any functionality issues arising from Client's due diligence review and testing of the worksheets within the framework of the original Scope of Work for 30 days from the date of payment. Spreadsheet Solutions specifically offers no warranty or guarantee to the functionality, validity, or accuracy of the worksheets. At no stage will Spreadsheet Solutions refund any money. You are not permitted to send any documents created by Spreadsheet Solutions to any other company or individual without our permission. Redistribution of software created by Spreadsheet Solutions is prohibited.
You've reached the end of the page, where would you like to go now?