COLD CALLING LOG & REPORT
What this spreadsheet does: It reports on your cold calling efforts.
Who this is ideal for: Anyone who is brave enough to undertake some sales cold calling, or if you employ someone to do so.
Why you need this spreadsheet: Making cold calls could be like dropping time into a black hole, especially when you don't know your results. Imagine if you could see a report of what the potential clients said, depending on when you called. Imagine how it would help if you could see how much more successful you were on the second call than the first to a client. If you have the statistics from your cold calling, you can fine tune your approach. This gives you a detailed report.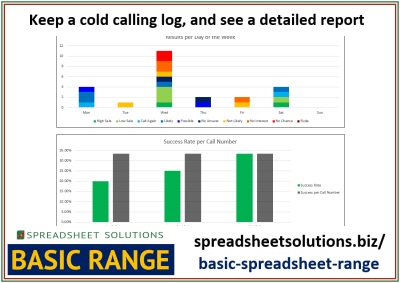 We are NOT VAT registered.
Would you like 1 to 1 help with using this spreadsheet?
When purchasing this spreadsheet, you will have the option to purchase a half hour of my time (Richard, the owner of Spreadsheet Solutions and creator of this spreadsheet), which can be used for me to show you how to use it (or various spreadsheets, if more than one are purchased), and for you to ask any questions. This call can be done via Skype or Google Hangouts in order to share screens. This will cost £50, and will be added to your invoice amount. If you choose not to take me up on this offer, there is a full demo video below explaining how this spreadsheet works. You can consult this video at any time.
Please note that if you find any errors on this spreadsheet, I would love to hear from you, regardless of your decision to have the Skype call or not. If you have any questions regarding this spreadsheet before purchasing it, please use the Contact Us button above.
Watch a Full Demo Video (this will explain in detail, how to use this spreadsheet)
Please note that all of our spreadsheets are made using the latest version of Excel, as used when using Office 365. If you're using an older version of Excel, or another spreadsheet platform, these spreadsheets may not work properly. If this is the case, and you would like to purchase a solution from us, please get in touch and we will see how we can help. Bespoke spreadsheets can be made to suit your preferred spreadsheet platform.
How the Order Process Works
When you order a standard spreadsheet, it will need to be customised with your company (and possibly personal) name, this means that we need to work on it before sending it to you. We also want to make the purchase process as safe as possible, so we do not have payment facilities online. Here is the process:
Press the 'Order Product' button when you are ready to place the order.
Fill in the form and click 'Place Order'. Make sure all the details entered are correct. If you have any discount codes, you can enter them, but they will not show. If you enter an invalid code, we will contact you before sending an invoice.
We will then send you an invoice, which you can pay. How you pay this is up to you.
Once we have the money safely in our account, we will then send you the spreadsheet, customised for you.
If you 'Opt In' for upgrades, we will invoice you once a year, on the month of purchase. If you do this, please do let us know if you have any suggestions for upgrades. We often rely completely on client feedback for this, so we are happy to hear your suggestions.
If you are unclear about anything, or if you just wish to chat to us to confirm, please do contact us. Various contact methods can be found on our home page.
Terms & Conditions
Once the Client has paid Sumcor Ltd trading as Spreadsheet Solutions (from now on referred to as Spreadsheet Solutions), you, the Client accept the worksheets as a complete satisfaction and realisation of the entire Scope of Work, instructions and parameters presented to Spreadsheet Solutions. Client additionally assumes all responsibility and liability for testing the functionality, validity, and accuracy of the program and holds Spreadsheet Solutions harmless for any liability or damages arising from the use of Spreadsheet Solutions' worksheets developed by Spreadsheet Solutions. Included at no additional charge with the purchase of the file, Spreadsheet Solutions will debug and correct any functionality issues arising from Client's due diligence review and testing of the worksheets within the framework of the original Scope of Work for 30 days from the date of payment. Spreadsheet Solutions specifically offers no warranty or guarantee to the functionality, validity, or accuracy of the worksheets. At no stage will Spreadsheet Solutions refund any money. You are not permitted to send any documents created by Spreadsheet Solutions to any other company or individual without our permission. Redistribution of software created by Spreadsheet Solutions is prohibited.