Surveys, Appraisals, Questionnaires, and Feedback using Excel
You may use a ready-made survey tool, or some other way of gathering responses in order to create a report, but often the ready-made solutions are limited with the reporting options. If you would like full control of the questions, hosted on your website, and a custom-made report to send to your client, here is an option.
If you need to create any kind of custom report for a set of questions, we have a great solution for you, whether it be a questionnaire, staff appraisal, survey, or any other situation where you need to collect answers and turn them into a report. I'll first show you what you will need (although you could possibly use substitutions, provided they do the same thing). I'll then show you how to put this together, step by step, to get the best results. Think of it as your survey report recipe, here are the required ingredients.
WordPress website
Contact Form 7 plugin
Contact Form DB plugin
Custom-made Spreadsheet
The idea behind this method is to set the questions up on your website, so that you can simply give the link to the person (or people) who needs to answer the questions. Then collect the answer(s), and send the data to a database which can be exported as a CSV file, which can be read by the spreadsheet and turned into a report. Here's a simple step by step guide.
1. Set up a page for the questions, and use Contact Form 7 to set up a 'contact form' of questions. You can have either drop down list answers (where you pre-select the options), or you can have free text options. You could also give people the opportunity to select a value, for example to rate a service from 1 to 10. As you're making this on your own website, you can control the look of the questionnaire, as well as have your own branding.

2. Once you have Contact Form DB running, it will send any completed contact form data to a database. This means that when someone completes your form, you don't need to recapture the data into the spreadsheet, just wait until all of the people have responded and then simply export that database as a CSV. Each contact form has its own database, so all the answers for that form will be in one place.

3. You can then simply copy the data from the CSV, and paste (VALUES) into your bespoke spreadsheet. We will make the spreadsheet in order to receive your data, and immediately populate the report, ready to save as a PDF and send to whoever needs to receive it!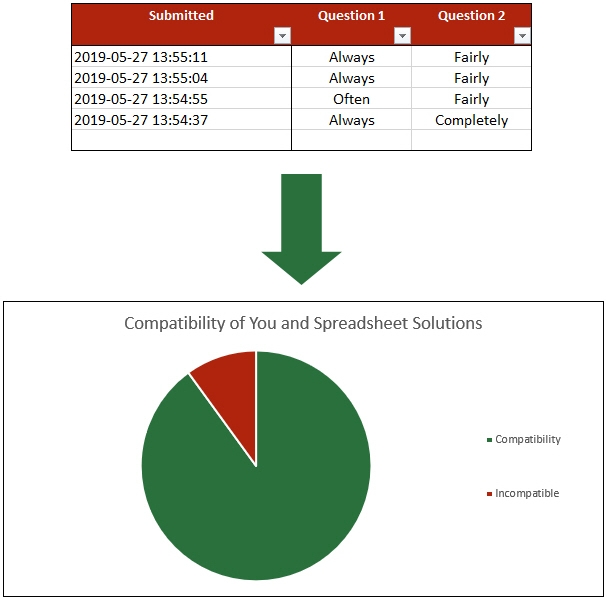 You will need a bespoke spreadsheet to accept, read, and report on the data. If you're not experienced in Excel to make such a report, or you don't have the time, I will be more than happy to quote on such a spreadsheet. This is my main line of work, and my passion. We can also discuss all the other steps of this process, to ensure that the spreadsheet (and whole process) is tailor-made to your exact needs.
So, there you go, a simple solution to collect answers, and convert them into reports which can be sent to those concerned.
What kind of questions do you need answered and how do you want to report on the collected data? Get in touch with us and explore how we can help you to achieve your goal.
Here are some answers to some questions that you may have.
Do I need to use WordPress?
I have used WordPress in the example as that is what we use, and I know of the plugin to send the form data to the database as I use it myself. All we ask is that you can get the data into CSV format, and the format stays constant. We can use that to make your spreadsheet. If you can always gain access to the CSV with the form data, and it is always in the same order, quite honestly we don't care which website platform you use. In fact, you don't even need to use a website. You could use a ready-made survey tool to collect answers. As long as the answers can be exported (in the same layout) each time, we can use the data to create a solution for you.
Is this secure and confidential?
It is as secure and confidential as you wish to make it. What we usually suggest is that we use the spreadsheet to create codes for each person who needs to supply answers (for things like 360 staff appraisals). Then you can send each person their code which they can fill in. Then they don't need to name any names or personal information. You can use the codes to identify which answers go on which spreadsheet (if you're running multiple reports), and the code will also determine who has supplied the answers. That way, if someone finds the web page by mistake, there is just a space for a code and some questions. You can set a password for WordPress pages if you're concerned about this, but they won't even know who it is about. If you want many people to leave answers anonymously, then you can just not ask for any information other than the answers. The exact process will be determined by your requirements, so get in touch and I'll explain what I can do for you.
How do I know which data goes to which report?
As mentioned above, I can make the spreadsheet accept codes so that each spreadsheet can have a unique code to determine which data belongs to it. Alternatively, each form will end up on its own database (with the method suggested in this post), so if you have a unique page per report, you won't need to worry about which data goes with which report as it will all be divided already.
Do I need to use Excel?
Technically no, but I would suggest you do. I use Excel all day every day, I can do more with Excel than any other platform. The other spreadsheet platforms are always playing catch-up with Excel, and in fact some have just given up. I can make you a report using Google Sheets, Open Office or Libre Office, but it will be seriously inferior to one I can make using Excel. In fact, the same is true of earlier versions of Excel. I can make reports which will work in older versions of Excel, but you'll get the best value for money using Excel in Office 365.
Can I edit the questions and report?
This will depend on your requirements, but there are certain things that I can make possible for you to edit. Things like the questions, possible answers (for drop down lists), report name and header, and details, and the score for each possible answer can be made to be edited. Things like the layout of the report, which questions are which type (drop down, score or free text), can't be edited. I do however charge one fee for the initial report, and a reduced fee for editing that to create other reports (if similar). If you get in touch and let me know what you need done, I can advise what is possible for you.
Can I have multiple answers on one report?
The report layout, how many answers you need, what information you capture, and just about everything else is up to you. I don't have a standard spreadsheet that you need to work from, I make the spreadsheet specifically for you. Some people need 8 people answering per report, and they send the page link out to those 8 people only. Others post the link on social media as they need 5000 replies, it is up to you. I will listen to what you want to achieve, and then we'll decide together how to proceed to get the best results for you.